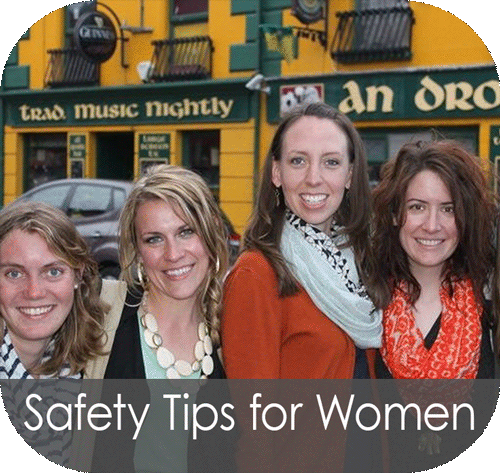 We girls can travel the world in style and safety by following a few important tips. Most of it really comes down to plain common sense; following the basic safety tips we would use at home. Problems arise, however, when caution is thrown to the wind in the face of "adventure." We're all for adventure but here are some basic reminders (and a few you may not have thought about) to put into practice so you can enjoy an amazingly fun and safe adventure!
Arrive in the daylight

Try to make sure you arrive at your destination during the day. This gives you the time to find your accommodations and get acquainted with the area while it is still light outside. Some cities can seem deserted or a little eerie at night if they shut down early, while others can become packed and rowdy making it harder to get around.  This will also avoid the feeling that anyone walking towards you is a dark stranger as opposed to a friendly local.

Appear Confident - Be aware and look around

Studies show that often women who become targets give the appearance of being vulnerable. This includes slumped shoulders, eyes on the ground, a slow pace, and nervous movements. Instead, walk with authority and purpose, shoulders back, head up, aware of your surroundings. Try to know where you are going (or at least look like you know where you are going) and put on an air of confidence.

Don't get lost in technology

It's easy to get caught up in checking updates on your phone or putting on your headphones and zoning out. However, getting lost in technology can essentially take away (at least one of) your senses. You need to be able to hear what's going on around you. So when traveling in unfamiliar areas or even while jogging – take the headphones out and stop scaring at your phone screen. Take in the scenery around you. You'll be more aware of what's going on and also appear less vulnerable (and harder to victimize).

Travel with a companion, when possible

We recommend traveling with a companion. Not only is it usually more fun, but in the case that anything should happen (an injury or accident, a loss of money or documentation, etc.), you would have someone who knows who you are,  knows your personal information, and can get help if needed. It is also safer to travel with a companion, as you appear less vulnerable.

If traveling alone, take extra precautions

If traveling alone, for your protection, it is better not to let that be known.
Have the clerk write down your room number instead of say it out loud if there are others in the lobby when you check in.
Lock your doors when you are in your room. (You may want to bring as small rubber doorstop with you to use in case a door-lock is not secure or missing.)

Stay Connected

If you do decide to travel alone, try to meet up with friends, family, or contacts at certain points along the way. Let them know when you will be arriving at each place. Also, plan to touch base with someone back home a couple times and at certain stops throughout the trip so they will be expecting to hear from you. (This is especially important if you do not have anyone you are meeting up with along the way.)
Give someone back home a copy of your travel itinerary, including plane flights and times, car rental reservations, etc., and the names and contact information of any of the places you will be staying (if you know).

Keep your documents and money safe

Keep your daily spending money separate from your extra store of money and important documents.
Don't pull out large amounts of money at one time.
Don't bring more than two cards.
Use an across-the-shoulder bag/purse with wider straps.
Keep your cards in a RFID blocking wallet (or use foil).
Put copies of your passport and credit cards in a separate and secure location such as the lining of your suitcase, a money belt, or even the insoles of your shoes. (You should also leave a copy of these with someone you can get in touch with back at home.)

Be guy-smart

Remember not everyone is who they say they are! Just because they say they are a famous soccer player doesn't mean that they actually play soccer…we know this one from experience
Don't be out-numbered by the guys. It is fun to make friends on your travels but don't put yourself in a position where you or your girlfriends are out-numbered by a group of guys in a way that could become dangerous if they turned out to be not such nice guys…enough said.
Do not agree to travel with a guy/guys to another location.
If you want to hang out with some guys you befriend, meet them at the location. Do not agree to let them pick you up. And make sure it is a well-known, safe, and frequented location. Know exactly where it is situated from the place you are staying before you go. (You can usually find out these things from the clerk.)
Do not give the exact location of where you are staying or let them "walk you back to your room."
Do not go to a guy's home/hotel/room. Do not invite them to yours.
Do not give anyone you meet a detailed itinerary of your trip.
If you are planning to drink, make sure at least one of you stays sober to ensure you get back to your accommodations safely.
Make sure your drink comes straight from the pub. Don't accept a random drink.

Dress culturally appropriate.

Dress according to the culture of the women you see around you (though this does not mean that you have to dress in their traditional cultural dress.) Just be aware of customs and what is considered to be immodest or improper in the countries you visit.
Also, be aware of the attitudes towards women in the places you are traveling. For example, in some countries making eye contact with a man is considered an invitation.

Follow your gut!

This is our #1 Rule: If you feel uneasy about something, follow your instincts! Even if it seems silly, if you feel uncomfortable about it, remove yourself from that situation. We women often have an unexplainable "sixth sense" about things; by following it, we can save ourselves from a lot of bad situations.