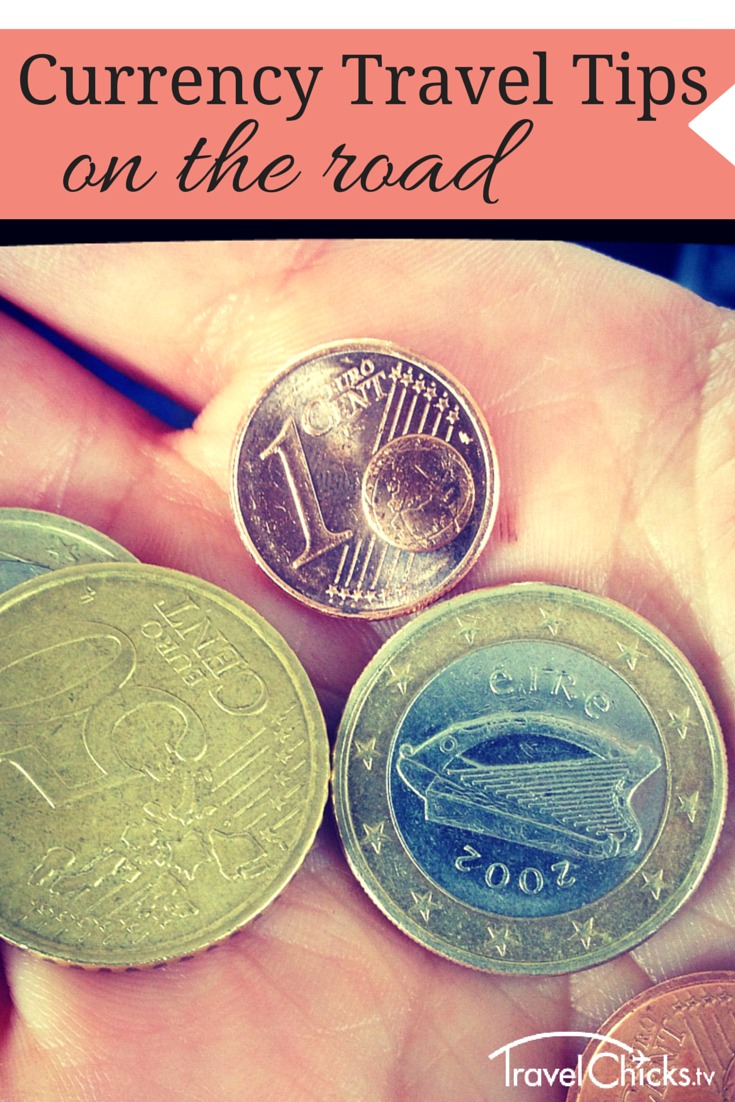 Getting money overseas is easier than it's ever been. There are now ATMs and even smart-phone apps that help you get (and spend!) money easily. We've listed our best strategies for getting, carrying, and spending money. And getting a good exchange rate.
Money Travel Strategy
1-2 weeks before a trip
Call bank to inform them of travel plans. They will place a travel notice on your credit card, so it won't be canceled when you start spending money overseas.
Ask your bank about any special fees for overseas transactions and about your daily maximum withdrawal for your card
Day before trip

Pack a small amount of USD to use at airport and to trade for Euros if needed. (We usually pack $20 or so.)
Pack (at least one) debit/credit card
During trip
Use ATM card. You will get the best exchange rates from just using an ATM card. (Or a debit/credit card at stores and restaurants.)
Don't use the airport currency exchange. **Only trade at the airport if you MUST. The rates at the airport are HORRIBLE. We traded a very small amount in Ireland so we could purchase bus passes to our hostel.
Withdraw cash from ATMs. Find an ATM and withdraw the money you need for the first several days of your trip.
Pay by credit card in Euros. When using your debit/credit card at stores and restaurants, choose the "PAY IN EUROS" option if they ask you if you want to pay in Euros or Dollars. It may seem smarter to pay in dollars, but not so! You will get a much better rate if you pay in Euros and let your bank take care of the currency exchange.
Frequently-Asked Questions
How much money should I exchange each time?
Find an ATM and withdraw the money you need for the first several days of your trip. (Kinda: I have a bank that charges NO fees at ATMs, so I withdraw smaller amounts more frequently). You don't want to be carrying around large amounts of cash. Things you may need cash for: Street markets, Some hostels, Some restaurants. Toward the end of your trip, withdraw Euros in smaller amounts. Otherwise, you'll be stuck trading your Euros back in for dollars at the…..airport. You know where we're going with this.
Should I wear a money belt?
Kinda: I tried one of these after seeing it recommended everywhere. It was weird and bulky, and I sweated all over it. Plus I couldn't figure out how I would actually remove anything from it in public. So now I just use a small wallet and keep it on me at all times. No problems so far, knock on wood. You can also travel with a "decoy" wallet – filled with a few dollars and fake cards – to give someone in case you are mugged.
I've heard I should exchange as much money as possible at one time to save on fees. Is this true?
Well let's not get carried away here. We had a friend exchange $1400 once on a backpacking trip. She carried around that much money the entire time. That's pretty risky. Exchange what you think you'll need for several days. That will keep you from looking for ATM's all the time but it will still be a safe amount to carry at a time.
Things you may need cash for:
Street markets
Some hostels
Some restaurants
What about pickpockets?
This partly depends on what area you're traveling to. When we traveled in Switzerland, people left their valuables just setting out on tables. In other areas, pickpockets are more of a problem. It's a good idea to be aware if you're in high-traffic tourist areas. Pickpockets don't always look like hoodlums. Keep your valuables close on you and be aware of your surroundings. We try hard not to be out in sketchy areas by ourselves at night as well.
(We have both heard stories of people getting items stolen, but we've yet to have a problem with it.)

Should I get one of those new-fangled RFID theft-protection wallets?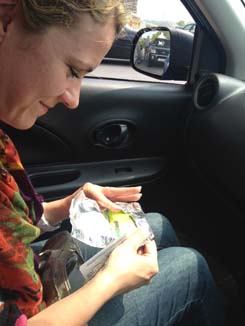 It can't hurt. Thieves are going high-tech these days and using machines that can scan your credit card from outside your pack. They walk by and scan your card and use the info later. We've never had this happen, but it's a possibility. On the last trip, Kinda bought a RFID-protection wallet for $10 and Kristian wrapped her cards in aluminum foil (which also works). Mine looked fancier, but we giggled every time Kristian got her money out.