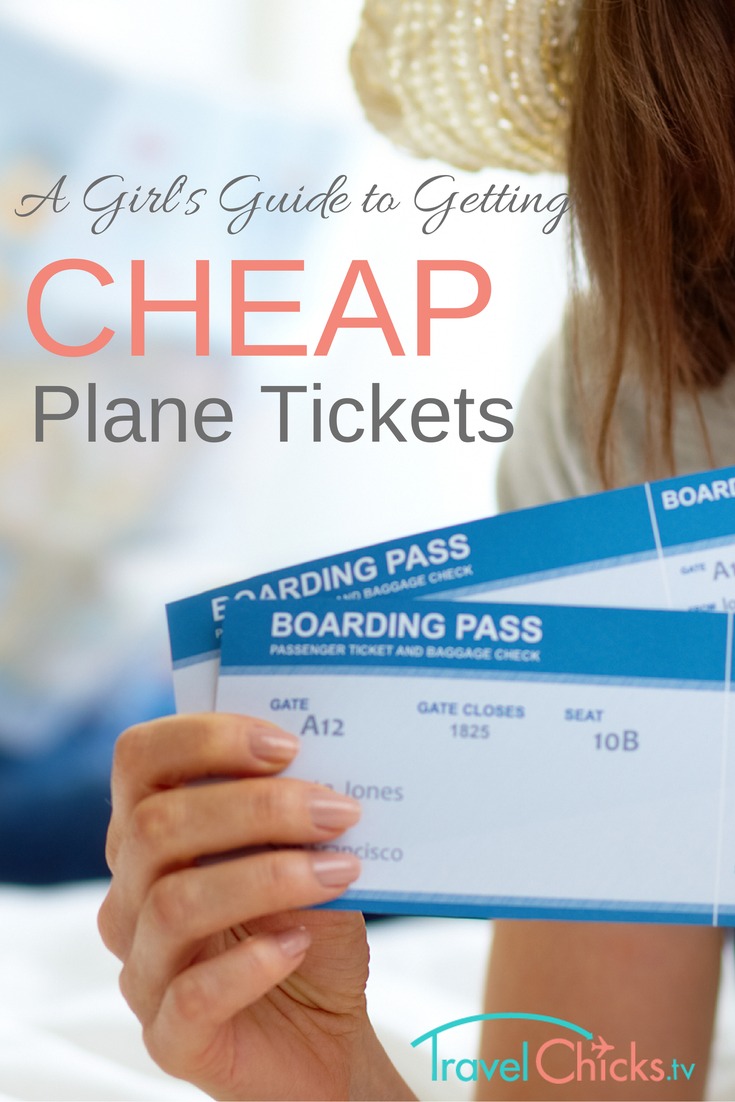 Plane ticket prices fluctuate constantly. There are bargains to be had if you catch them at the right time. If you're flexible on travel dates and times and you do your research, you can book an affordable flight or even a free one.
Guide to Booking Cheap Domestic and Overseas Flights
1. Set fare alerts immediately"
Do this as soon as you know you want to travel. On sites such as Airfarewatchdog, you type in your desired trip (departure and destination cities), and they email you whenever the price drops. This is important, because specials promotion price drops can happen at any time. You don't want to keep obsessively checking prices, do you? They take care of that….for free.
2. Check regional airlines"
Many regional airlines run very limited routes, but offer fantastic savings if you can make their routes and times work. Check these websites directly, as many of these do not show up on Priceline or other searches.
3. Be flexible which season you travel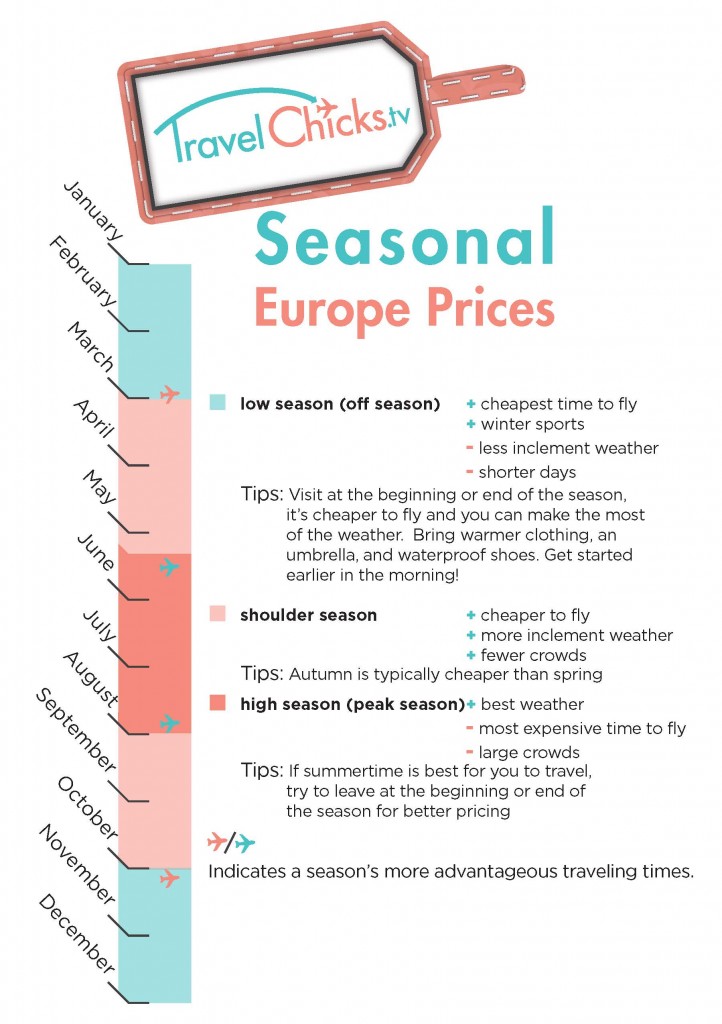 Many people travel to Europe during the summer months (hence the term "tourist season".) If you don't mind a bit chillier weather, you can sometimes book flights to Europe during the off-months for dirt-cheap prices. Plus the sites aren't as crowded.  This year, tickets to major cities in Europe during April were selling for around $500 each.  **Be aware, if you travel in reeeeally off-months, not all tourism sites or lodging places may be open.
4. Travel mid-week
In general, flights are cheaper if travel you Tuesday, Wednesday, or Saturday – The cheapest day of the week to fly is Wednesday. Flights to Europe tend to be cheaper if you fly out Monday through Wednesday.  The worst days to travel? Friday and Sunday, by far.  We've seen prices fluctuate four or five hundred dollars just by traveling on a Thursday instead of a Friday. If you have flexibility on travel days, you can save a ton.
5. Choose the 'flex-days' option on websites when pricing tickets
This will let you see the prices for the same itinerary two or three days before and after your desired travel date.
6. Book your overseas flight 8 to 10 weeks in advance
The earliest bird doesn't always get the cheeeep ticket (corny joke, we know). A recent study showed that the cheapest domestic tickets in the US were purchased 6 weeks before takeoff. We usually book 8 weeks prior for an international flight. We have found that's about the time that the price drops drastically for our tickets. (Note: our friend thought that the cheapest price to Italy would be if she purchased waaay in advance. She paid $1400 for her ticket. We waited until 9 weeks before our flight and paid $900.)
7. Book your flight on a Tuesday afternoon
Airlines drop their prices on Tuesday and usually raise prices throughout the week. According to research, the best time to search for ticket prices is Tuesday at 3pm EST. The worst time to buy is on Saturday evening.
8. Be flexible which city you fly into or out of
Some search engines have the options to "search nearby airports." A group of us tried this once when traveling to Florence, Italy. Instead of flying directly there, we flew into a smaller nearby airport and then took a train to Florence. It would have saved us money….had we not taken the wrong train! We would recommend this strategy if you're going to save a significant amount of money to make it worth your hassle.
9. Look at promotional package deals
It may seem counter-intuitive, but sometimes flight AND hotel/car package deals are actually CHEAPER than just the flights themselves. Or even just a few dollars extra. Companies make travel deals with airlines and hotels and put them together as promotional packages…and pass the savings on to you.
10. Name your own price through Priceline.com – Video tutorial below!
You may not get the exact flight times you want, but friends of ours sometimes save 30-50% on their last-minute flights by naming their own price. Check below for an overview on how to bid on Priceline or see our post on HOW TO BEAT PRICELINE bidding on tickets.
11. Consider a multi-city or open-jaw ticket
All this means is that you fly into one city and then fly out of another city to return home. We sometimes get hit with skepticism on this one. People often say, "Oh, it's very expensive to do that!" But in reality, we've often priced multi-city tickets that were the same as a "normal" ticket. Why would you want an "open-jaw" ticket?
Consider this: You're flying into Paris and wandering around Europe for two weeks. You plan to venture down to southern Italy toward the end of the trip. You could either travel all the way back up to Paris to depart for home (a day and some money spent) or just fly out of the Rome airport. Price both options and see which is best. Most times you'll find an open-jaw option works really well if you want to travel in more of a straight line than a loop.
Other Resources for Scoring Cheap Tickets
Web Resources
App Resources
Priceline Bidding
Web Resources for Booking Cheap Flights
Travel Apps for Booking Cheap Flights
Many airlines are now offering bonuses such as cash rebates or bonus points for booking with their apps. Here are some of our favorite booking apps.
Priceline – great functionality like the site, but it cannot yet book multi-city flights.
Hotwire
Expedia
Hipmonk – can rank flights according to hassle or "pain".
OnTheFly – This app is unique because you have the option to say how many days you want your trip to last and then scroll through the month to see exactly where the cheapest flights would be. This beats typing in trip details over and over, and it's an easy way to save hundreds. Here is a flight we priced (and saved our friend $600!)
Priceline Bidding for Flights
Bidding for a ticket on Priceline can save you valuable travel money. All you need is a little schedule flexibility and a bit of adventurousness (is that a word?). Check out this video of us going through the Priceline bidding process.
Here are some things to keep in mind when bidding on the Priceline Name Your Own Price Page
:
You choose travel days, not times.
With Priceline bidding, they can start your journey any time throughout the day, including very early morning or late into the evening.
You can only bid on one-way or round-trip tickets
For some reason, Priceline does not allow you to bid on "open-jaw" or multi-city tickets. We're disappointed in that, but we're glad we have the option to bid at all.
You will be booked on a jet aircraft, unless you specify otherwise.
You have the option in the bidding process to say that you will travel on a non-jet aircraft. But the default is a jet plane. You won't be put on a prop plane.
You will have a maximum of one connection.
When we first started bidding, we thought Priceline could route us through seven airports all over the continents. Not so. You can only have a maximum of one connection – which is better than several flight plans we've chosen ourselves! Again, in the bidding process you can choose to have more than one connection, but the default is one.
You must enter your credit card information before you bid.
If they accept your bid – it's bought! No going back and picking a different flight.
You have a chance to bid again.
You must change one thing each time you immediately bid again. This could be the departure day, return day, airport, number of connections, etc.
You can bid your exact journey specs later.
Priceline makes you wait a couple of days to bid your exact flight plan again – this is to prevent starting off at a low bid and then just increasing it over and over by one or two dollars.
Also check out our step-by-step guide for bidding for super-cheap tickets: