The main upside to traveling in Europe is that they have a very well-developed public transportation system. That gives solo travelers some inexpensive options.
In Europe, the trains will take you to most major towns and stop at many smaller towns along the way. For the small, out-of-the-way towns, you may need to buy a bus ticket. Either of these are pretty affordable options. And if you want to get off the beaten path a bit or wander around, you'll need to rent a car. (Or a bike if you're that in-shape. We're not.) For more travel flexibility, you can buy various land passes to get you unlimited travel on certain days within a region. This can be cheaper or more expensive, depending on your travel plans. Regional planes also offer affordable options to fly long distances within Europe. And last, but not least, there are great ride-share options as well. Which can save you money, but be a bit trickier to plan.
Don't get overwhelmed with all of the options! Here is our strategy for deciding which method to use:
Are we traveling small distances? Choose a train, if available. If not, choose a bus.
Are we traveling long distances within a region each day? Look at rail pass options for unlimited travel.
Are there three or four of us traveling together cross-country for several days? Do we want to wander around independently? Look at car rental options.
Are we wanting to travel across the continent in a short amount of time? Choose plane travel.
Want to travel super-cheap? Try ride-sharing.
Bus
Rental Car
Tram
Train
Plane
Rideshare
Busses are usually the very first form of transportation you will take when you get to the airport. You have to figure out which one will take you to your area of destination. There are usually maps at the bus stops.
Have exact change. This may mean that you need to go ahead and exchange some of your money right there at the airport but you will need the change for the bus. We literally had someone give us change at a bus one time when we were short a few coins and unfortunately holding up the line and bus!
Be aware of where you are and where you are going so you do not miss your stop. If you need to ask the bus driver when he/she stops then go for it…but not while the bus is moving.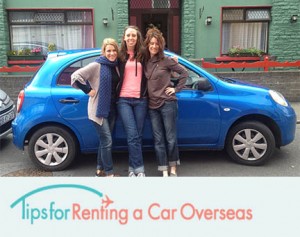 When traveling through Ireland, we decided to rent a car so we would be free to roam the countryside. This turned out to be a great choice. Our car rental guy gave us one very important piece of advice before we left, "Watch out for the white fluffy things! By this of course, he meant sheep. We would not have seen (or been able to stop at) all the beautiful places we discovered and small towns we came upon without the rental car. And we successfully completed the trip without hitting one white fluffy thing!
Cost can range widely, depending on location, seasonal demand, and type of car: $10-$100/day with insurance.
Tips for Renting a Car
Email/call ahead and make car arrangements. It is much easier to book before you get there. The prices can be cheaper, you can find out about discounts, and you can be sure to have a car available when you get there. Enterprise and Hertz, have an overseas presence, or you can use Europcar and Auto Europe.
Find out if you need an International Driving Permit (IDP). You do not need a special license for driving European cars (you will be driving on the opposite side of the car and road) but it will take a little bit of time to get used to it.  However, in some countries it may be necessary to obtain an IDP. This is just a paper that translates your information into 10 different languages and is recognized by over 150 countries. You may be asked to present one along with your regular state license. You must be at least 18 years old to get an IDP. Your car rental place will be able to tell you if you need this.
Insurance or Comprehensive Accident Protection: If you are driving overseas you probably want to get insurance on the car that is available through the rental place. But FIRST check the credit card you are reserving the car on. Often credit cards cover the insurance for rental cars, including those overseas. MasterCard, Visa, Discover and American Express offer different types of collision damage waivers for foreign and domestic rentals. (Not every country is covered, though, so you need to do your research first.)
Check your car before you drive for any dings, scratches, etc. so that you cannot be held responsible for damage that you did not incur. Be sure to note any damages on the form before you rent the car and drive away. We usually take pictures of the car before and after we rent to have further proof.
Some airports have rental cars available there, although it may be less expensive to take a tram out to another rental company.
Be aware of local driving laws. Just because you are in another country doesn't mean their driving laws don't apply to you. Any citation or infraction issued abroad will be waiting for you when you get back to the states.

Book ahead for most affordable cars
The cheap little economy cars often sell out first during times of high demand. If an event is happening in town and you book last minute, you may be stuck paying extra for the large family-size car or the luxury sportster.
Bid online for cheaper prices
Yes, you can bid on cars just as you can with hotels and plane flights. We've gotten cars for less than $10/day. We recommend looking up the going rental rate before you start bidding. And remember that they will add in all of the taxes and fees on the final bidding page. We have the most experience bidding on Priceline.com.
Check with your credit card company about special deals when you book with their card
For instance, with Kinda's card, when you book a rental car using that card, you can decline the optional collision insurance, and the card company will cover that situation. This is an incredible deal, because the extra insurance often costs more than the initial car rental amount. (And car rental companies loveto upsell you this insurance).The trick is to know ahead of time exactly what extra car rental perks come with having your credit card. Not all situations and countries are covered, so research this ahead of time.
Trams are extremely convenient when traveling from one side of the city to another or traveling to a nearby city. One day, when we were overseas, the entire city we were staying in closed down for a speedway race. No busses were available and no roads were open for driving. After walking for half an hour in the rain, soaked to the core and hair permanently disheveled, we finally found the tram and were able to make it to meet our friends who were waiting in a nearby city. Salvation!Cost: Prices vary, but typically between 2 euro for a one-way ticket to 10 euro for an extended ticketTram Tips:
Tram tickets are available at each of the Tram stops, which makes it extremely convenient.
You can use change or bank cards to buy your ticket.
You can by one way tickets to your destination. In some places you can buy a bundle of several tickets to use within the week.
Tickets are usually sold by Zones. You choose a ticket based on the Zone that has your stop in it.
Some trams have small machines on the tram where you have to validate your ticket. In other places there are simply random ticket checks.
Be aware of where you are on the zone map as you go so you do not miss your stop.
One of the easiest ways to travel in Europe is the rail system. It is basically a souped up train that takes you across country while you sit back and don't have to worry about directions, crazy drivers (including yourself), or mysterious road signs.The Eurorail pass gives you unlimited travel on the rail system for a certain number of days. It's very flexible, but it's not always the cheapest option, so do your research to find out if it is right for you. Because you pay per day for unlimited travel, the Eurorail pass is best if you want to cover large distances within one day. If you plan on staying close to a home-base, it may be more affordable to purchase individual train passes after you arrive in a city.
Overview of Purchasing Eurorail
Decide what countries you want to visit.
Plan your itinerary. How many days/nights do you want to stay at each stop?
Pick the best pass for you.

Global Pass- the most expensive pass but covers 21 countries
Flex Pass- 3 to 5 countries (usually a certain amount of days over a 2
month period)
Regional Pass- limited to a certain area
Single Country Pass- a certain amount of days, depending on price, within
a 1-2 month period
Youth Pass- this will save you money if you are under the age of 26
Saver Pass- good if traveling with one or more companions
One-way Pass

Purchase pass before you get there. You may purchase a pass up to six months in advance. The pass must be "activated" within six months (See #6).
Hold on to your time table! You usually receive one when you buy your pass. You
will need this!! You can also download the "Rail Planner" app to show European train time tables.
Activate your rail pass before you use it the first time. To activate it, a railway official has to stamp it, which marks the start of your pass validity time. Don't be caught on a train without your pass validated – the conductors get pretty ticked off and can charge you a fine (yes, yes, we did that too).
See if you need a reservation for a specific train. Even if you have a Eurail pass, some trains, especially high-speed and overnight ones, require that you reserve a space.
Double-check the name of your station. In bigger cities there can be multiple
stations.
Always get to your station early and find your platform.
Find your car and seat number on your ticket.
Mark your travel date in pen on your Eurorail pass and pull out your ticket for the conductor.
Enjoy the trip! But make sure you keep track of where you are along the way so you don't miss your stop. If you want to sleep on a shorter trip you may want to set an alarm on your phone. …On a side note, we had a friend who slept through his stop. When he woke up he was at the end of the rail parked at the station. He ended up having to crawl through a window to get out. True story. So set that alarm!
Note: If you're traveling overnight, you may need to make extra arrangements for a bunk bed (couchette) for an additional fee.
Web Resources
Eurorailways.com – Europass purchasing. Has a great mobile site as well.
Rail Europe
– Has an easy scheduling feature where you can pick where and when you need a train.
Eurail.com – Options for purchasing land passes
Germanrailpasses.com – For travel specifically within Germany.
Europe has several regional low-cost, no-frills airlines. You can sometimes book a flight across Europe for cheaper than a train ticket. There are some downsides to this – you don't get to see the landscape and towns along the way. But if you're looking for a quick way to get from point A to point B, flying may be the way to go.
Web Resources
Ryanair.com – Ryanair is the airline we hear about the most. They've become known for running dirt-cheap ticket specials and finding (creative) ways to offer very basic services. Urban legends abound of people scoring tickets for a few euro. Ryanair has a pretty substantial network, with over 180 airport hubs in most Europrean countries. You can book directly from their website.
EasyJet.com – Easyjet boasts that is is "Europe's leading airline, operating on over 600 routes across 30 countries with our fleet of over 200 aircraft." It does fly to most major hubs in Europe.

From Ryanair: "Our cheapest fares are available, on www.ryanair.com, for passengers who travel at off peak times (after 12.00 Monday to 12.00 Thursday and after 12.00 on a Saturday). Our lowest fares generally require an advance purchase of 14 days; however this can vary up to 28 days. Passengers can search for our lowest fares by checking the flexible search option box when selecting your departure and destination airport."
What is ride share? It's simply sharing a ride with other people who are going to the same place – "carpooling" as it's called in the US. There is a well-established ride share system in Europe. Ride share can work really well if you can plan your travel between cities in advance. It's a little trickier if you're flying by the seat of your pants (figuratively, of course).
The ride share websites list rides available – when the person is leaving, departure and arrival cities, flexibility, how many seats available, and price. You can also list where you would like to travel and see if anyone is going that direction.
Our friend Tom often uses the German version of the ride share site, and he said this, "Mitfahrgelegenheit.de (the German site) is THE cheapest way to get around, bar-none (other than hitch hiking or bumming rides off of friends)."
Web Resources
carpooling.co.uk – This site describes itself as "the largest car sharing network for cheap, green travel in the UK & Europe Drivers and Passengers can find, offer and book lifts, and check out what fellow travellers are like via their user profiles."
mitfahrgelegenheit.de – A local German version of the previous Europe carpooling side.