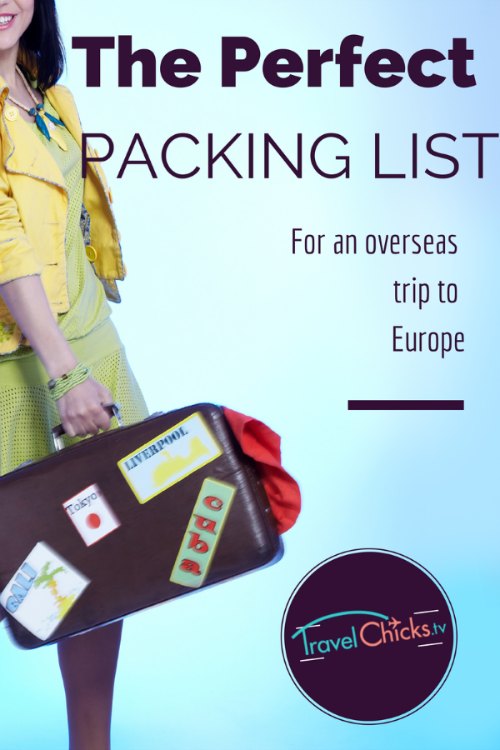 Getting ready to pack for travel? We know you've heard it a million times – PACK LIGHT! We are girls who love shoes and too many clothing options, so we've learned this lesson the hard way.
You would be surprised how much extra room and weight those extra items will take up in your pack. A few days into your trip, you won't care how much you thought you needed those six styles of jeans – you'll just want them gone.
Check out the video for our top must-pack items. Then click below for general packing tips and an entire packing list.
We even have a free interactive downloadable PDF for you!
Travel Clothing Packing Tips for Females
Pack less than you think you need
Any chance you'll be shopping overseas? We thought so. Leave room in your pack for fun items you may buy on the road – such as scarves, bracelets, Italian shoes, or funky European pants.
Pack layers of clothing
Instead of packing sweaters AND t-shirts, we often bring long-sleeved shirts that we can wear under the t-shirts and a light-weight jacket to wear on top. This way, you will be able to wear the jacket during a chilly morning and take it off in the afternoon.
Bring clothing you can mix and match
We usually bring a few solid color t-shirts that we can dress up with a scarf and skirt or dress down with jeans and flip flops. The key is to bring things you can wear once or twice in different outfits before they have to be washed.
Pack clothes that don't wrinkle easily
Self explanatory. There's no way we're packing an iron.
Look up the weather forecast before you leave
It's easy to assume the weather somewhere else will be similar to where you live. Find out what kind of clothing you will need on your trip.
Bring culturally-appropriate clothing
Clothing styles and modesty standards differ around the world. Keep this in mind when packing. Be respectful of the culture and dress accordingly. Also, if you want to blend in with the locals, pack items similar to their current fashion. Or buy a few local clothing items once you arrive. We were surprised that so many people in Italy wore long, lightweight pants during the summertime. It was easy to spot the American tourists wearing (short) jean shorts.
Bring modest clothing to visit cathedrals and temples
We tell our friends this every year, and they rarely listen. You will need to be wearing appropriate clothing if you want to visit most of the historical churches, cathedrals, and temples. Most of the time this appropriate clothing means a skirt of appropriate length (if a woman) or at least long pants. No short shorts! Our friend Annie wore short jean shorts and tried to visit a lovely cathedral in Italy. They gave her what looked like a giant bib to wear around her waist over her clothing before she could enter. Told you so!
Travel Packing List PDF for Women – (Free Downloadable File)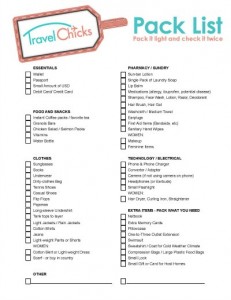 Download Interactive PDF
Download JPG Image
Text Version Packing List
Wallet
Passport
Small amount of USD
Credit card
Instant coffee packs or favorite tea
Trail mix
Granola bars
Chicken salad, salmon packs
Vitamins
Water bottle
Sunglasses
Socks
Underwear
Dirty-clothes bag
Tennis shoes
Casual shoes
Flip flops
Pajamas
Long-sleeve undershirt
Tank tops to layer
Light jacket/rain jacket
Cotton shirts
Jeans
Light-weight pants or shorts
WOMEN:
Cotton skirt or light-weight dress Scarf – or buy in country
Sun-tan lotion
Single pack of laundry soap
Lip balm
All meds (allergy, potential disease, ibuprofen)
Shampoo, face wash,
Lotion
Razor
Deodorant
Hair brush, hair gel
Washcloth, medium towel
Earplugs
WOMEN:
Makeup
Feminine items
Phone Converter/adapter
Phone charger
Camera (if not using camera on phone)
Headphones/earbuds
WOMEN:
Hair dryer
Curling iron, straightener
EXTRA
Netbook/iPad
Extra memory cards
Pillowcase
One-to-three outlet extension
Swimsuit
Sweatshirt/coat for cold weather climate
Compression bags/Large plastic food storage bags
Small lock
Thank-you cards for host